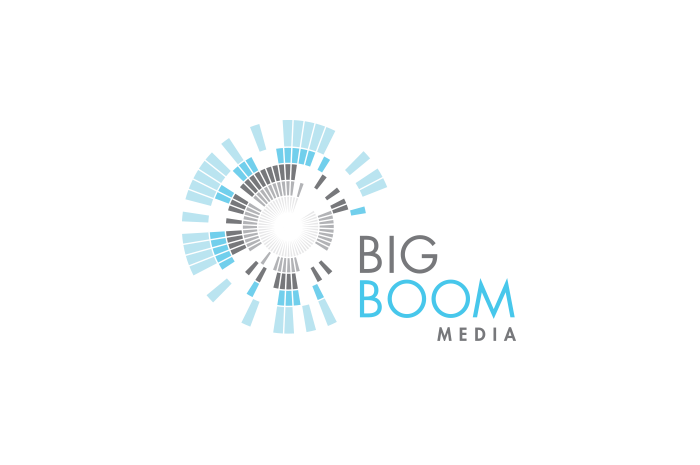 Big Boom Media Identity
This identity was created for the brand launch of Big Boom Media, a startup specializing in SMS messaging advertisement. The brand image was created to show the explosive viral nature of Big Booms' work through a sleek, engaging, and ever-expanding identity design that was carried through various brand atmosphere touchpoints. Since launch, Big Boom Media has developed a reach of over 4 billion wireless subscribers, translating the identity's visual claims into tangible reality.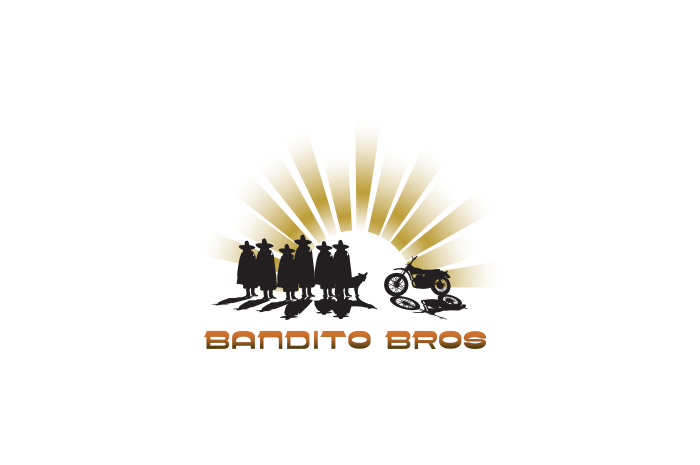 Bandito Brothers Identity
When we were approached by motocross legend Mike "Mouse" McCoy with a bold vision of creating a new kind of action-focused content creation and production studio, we knew that the brand identity would have to be something extraordinary. The sunrise, the banditos, the coyote, and the bike together turned into a legendary visual in and around Hollywood as the studio took off creating blockbuster box office films and commercials for Fortune 500s. While the visual and verbal language could have easily turned gimmicky and unauthentic, it was important to never slide down that path: Exceptional dedication to the brand atmosphere touchpoint designs through gold foil and other superior paper and fabric choices along the way ensured that the icon and its just as iconic typography became a symbol for out-of-the-box creativity and badass stunt performances.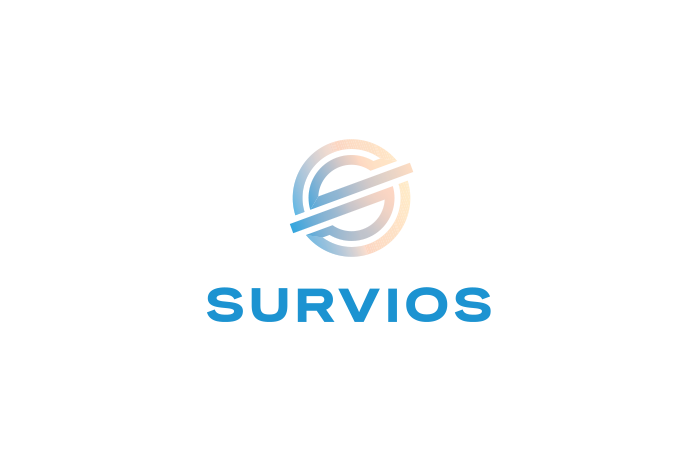 Survios Identity
Brand Identity Design in partnership with the team at Survios, a revolutionary tech company focusing on virtual reality gaming and immersive entertainment research and development. The symbolism will remain a mystery due to the confidential nature of this fast growing VR company, but give it a second and you might realize a few strategies that have been derived to equip this bold startup with the lasting icon it demanded.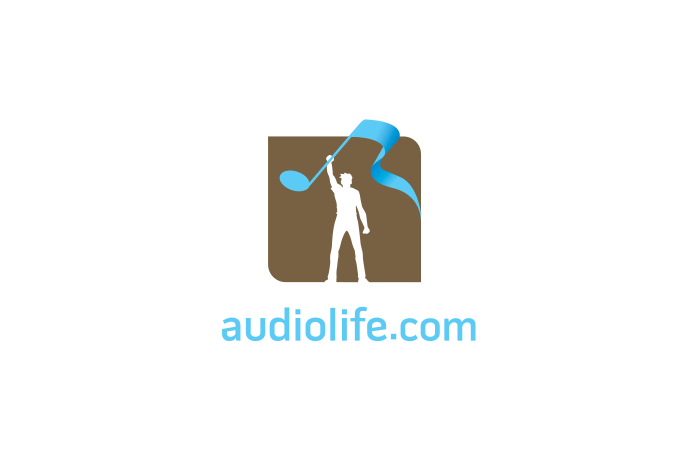 Audiolife Identity
Our brand launch for direct artist-to-fan music fulfillment service Audiolife created visually powerful, dynamic, and intuitive results for its 300,000 users, ultimately leading to the acquisition by the top ranked distributor. 'The power of music' was given back to artists and fans alike and was successfully communicated through an iconic brand identity. When there is one key message of empathy, don't hide it. Shout it through the identity, and the tribe will proudly support, wear, and tattoo it. Yes, this was that kind of iconic logomark.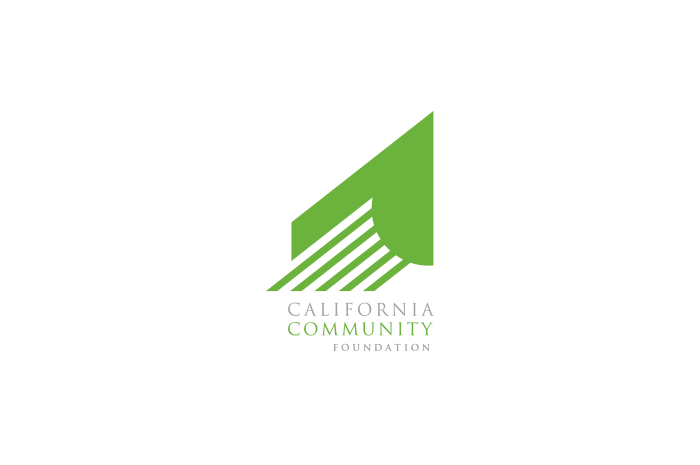 California Community Foundation Identity
The California Community Foundation, a 100-year-old organization, holds nearly $1.5 billion in assets making it one of the largest community foundations in the nation. We were hired to undertake a large-scale re-branding effort to re-envision the brand identity and align it for the next decade to come. Signifying growth, stability, and origin (California) was the center-piece of the brand identity design and its iconic mark. Growth was shown through the green pillar that angles upwards, while sunbeams - or a wave - creatively nod at the origin of the foundation. 5 lines signified the 5 core values. Nearly a decade later, CCF still uses the icon we crafted as a visual translation of their wonderful and inspired organization.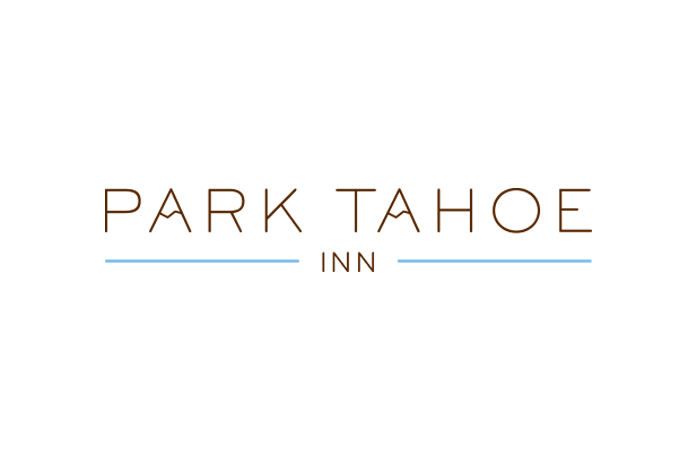 Park Tahoe Inn Identity
Tasked to create a brand identity for a remodeled hotel in beautiful Lake Tahoe, we knew we had to find a way to showcase the majestic area in the most simplistic and modern manner, while standing out from the sea of hospitality logos in vicinity. Within the simple typographic identity, we focused on the elements of the lake as well as the mountains: the key attractions that draw visitors to this majestic area on the Nevada-California border year-round. The brand image was carried through all brand atmosphere touchpoints and continues to inspire guests to indulge in the surroundings of its beautiful location.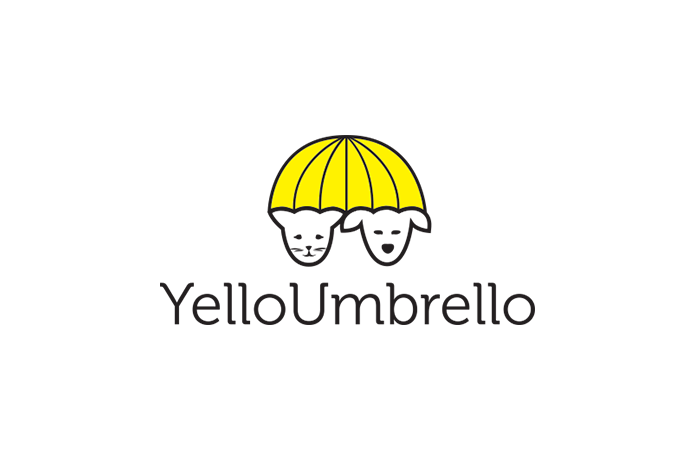 YelloUmbrello Identity
Crafting the brand identity for this new high-end chain of pet groomers, we knew we needed to shake things up with a dash of unexpected color and a playful, memorable and unique name. And of course it had to be damn cute, without that grooming kitsch with which we are all too familiar. While cats and dogs found a safe place under the yellow umbrella (yes, it's how we tricked them into getting a good wash), the brand atmosphere touchpoints found its differentiation through strong color and icon-language.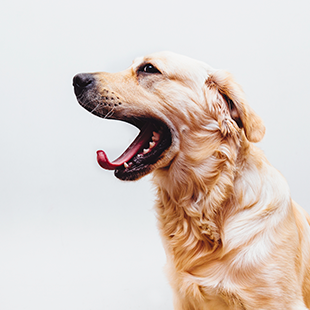 Yelloumbrello Naming
The name for this high-end pet groomer was derived from the notion of pets getting a good wash, which many canines don't list as their top ten things to do. The fun name YelloUmbrello defined how different the groomer was, while it also alluded to the franchising model (a brand umbrella). Most importantly though it created a sense of trust, ensuring pets were in a safe and clean environment. We also joyfully crafted the tongue-in-cheek tagline 'Happiness is a pampered pet.'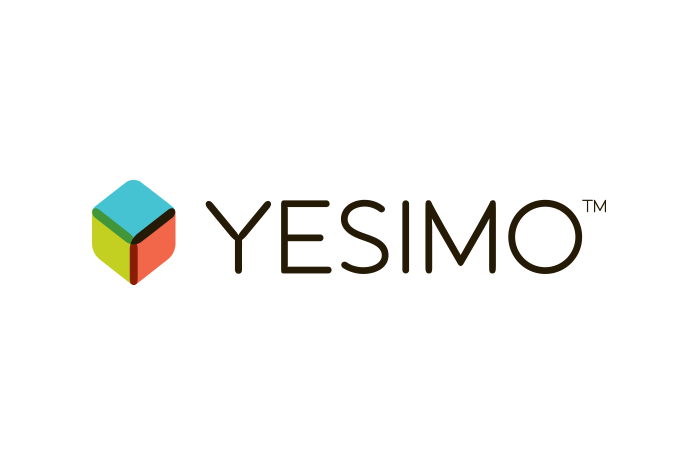 Yesimo Identity
An E-commerce start-up focusing on Hispanic markets in the USA and LATAM, Yesimo sought a distinct and highly identifiable mark to represent their brand as secure, trustworthy, and customer-centric. Authenticity of course played the biggest role given the demographic. The "Y" in Yesimo is cleverly revealed at the meeting of the 3 corners of this three-dimensional cube alluding to the shipping and retail nature of the business. Packages were designed to share the same colors around their surface, mimicking the mark, while the colors further represented the Latin-American exchange.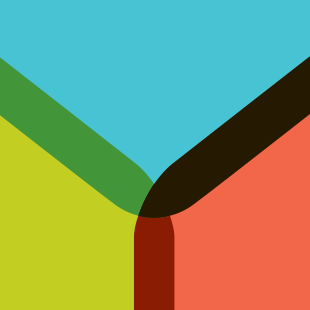 Yesimo Naming
The Yesimo name was derived from the word "yes" in three languages: English, Spanish, and Latin. Yes! Yes! Yes! - something every E-commerce platform begs its users to say as they click 'buy' on products or check the door to welcome its products. Easy to pronounce in all targeted languages, easy to remember and spell, and internationally own-able, Yesimo communicates positive emotions instantaneously to a wide audience. Have we achieved what we set out to do? Yesimo!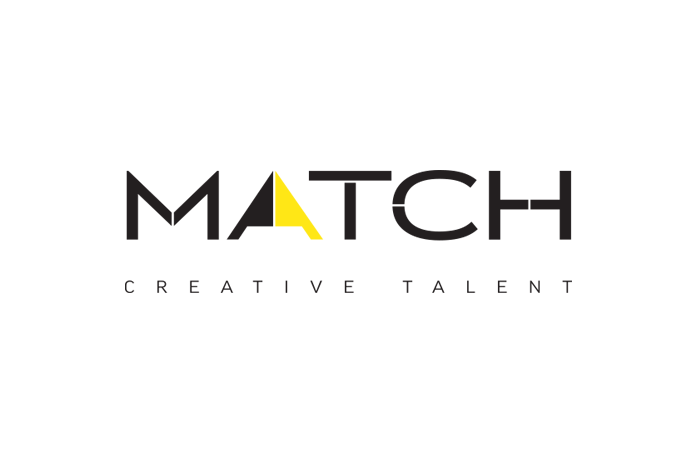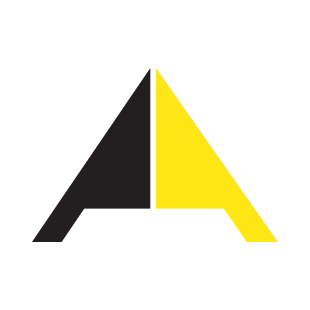 Match Creative Talent Identity
Creative talent agency Match chose us to spearhead an all-encompassing re-branding effort of the firm's dated identity system. Our solution revolved around the symbiotic relationship of talent and hiring party, the foundation of the company. Each letter consists of two parts that make it work, that hold it together, that create the company. It talks about co-dependency as much as leaning on each other to successfully fulfill a task. The symbolic letter A turned into the scalable icon while alluding to the transformation into a digital-first workflow (the hint of a cursor) that Match embarked on at the time of the re-branding. Match Creative Talent got acquired by Onward Search a few years after the re-branding initiative.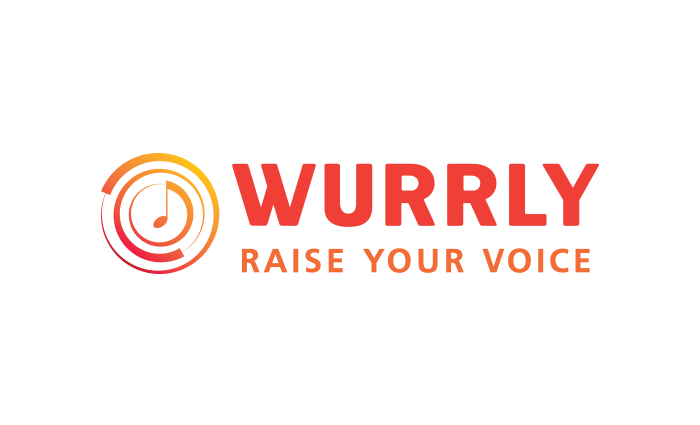 Wurrly Brand Strategy
Los Angeles based startup Wurrly is a free mobile app that transforms your smartphone into an on-the-go music studio with a fully customizable recording artist experience. We worked with Wurrly through our one-day brand strategy workshop to derive the brand's personality, values, and better define the story. As sometimes is the case in these magical days, we also derived the tagline that day: RAISE YOUR VOICE; a line that speaks to the empowering opportunity for artistry and social sharing that Wurrly promotes.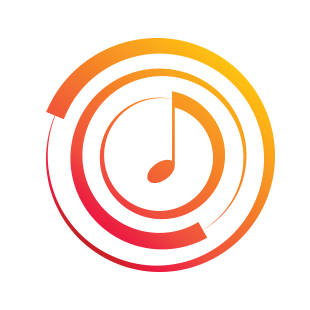 Wurrly Identity
A dynamic brand identity for this rapidly growing startup that mixes music and tech to bring the ultimate karaoke experience to the app store. Based on the findings of our Resonaid™ brand workshop, we crafted a mark that touches on the universal nature of music and the concept of the 'whirl' as it evokes its musical feel. The brand radiates the idea of 'connecting people through song' - and the icon needed to ensure it does that in a manner that is easily understood by the target, while making it scalable for its key usage in an app and social media environment. The brand icon set the stage nicely for a startup that is seeing tremendous adaption by its tribe.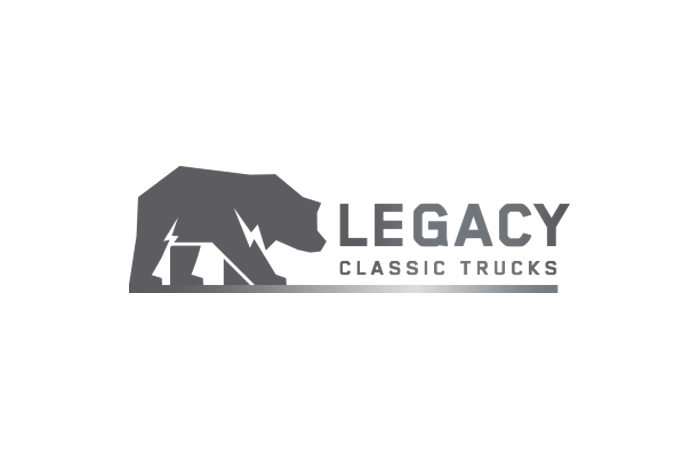 Legacy Classic Trucks Brand Strategy
Legacy Classic Trucks are bespoke restored power wagons - just ask Jay Leno; he knows. As part of this remote brand strategy workshop for Legacy, we dived deep into the emotional connections 25- to 65-year old men have with their immaculately restored Legacy power wagons - 'the kings of trucks.' An expensive and masterfully crafted object of desire, together with Legacy's founder we pointed the emotional connection with the brand back to meaningful outdoor experiences, a sense of personal empowerment, and a deeper connection to tradition. Through our one-day session we defined the robust nature of the product through core values and brand personality while identifying the emotional need of the audience for authentic experiences in the outdoors.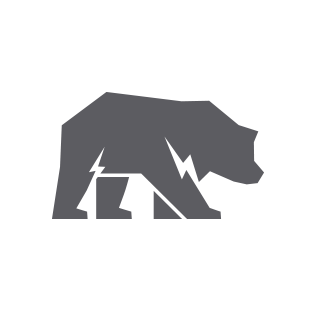 Legacy Classic Trucks Identity
Based on the brand strategy for this power wagon restoration company, we created an impactful mark that represents the core values of durability, strength, and American heritage. A grizzly bear was chosen to symbolize power, strength, and knowledge. The gray gradient is used to resemble a strong steel-like quality. The negative space within the bear creates lightning bolts to emphasize the 'absurdly powerful experiences' while using the product. The typeface was chosen for its chiseled features and bold characteristics. A mark that is as iconic and bold as it is ensuring to remain timeless. All while looking darn sexy on those wheels.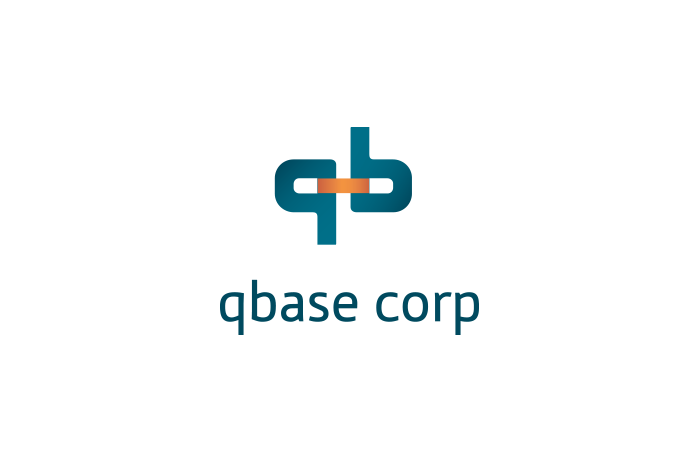 QBase Identity
The brand identity derived for data management company Qbase focused on the firm being 'the connecting element' as well as an overall elevated look to disrupt the IT segment as it launched over a decade ago. We were tasked to establish a visual identity evoking trust and commitment on a global manner for its clientele of Fortune 500 CTOs. Today, Qbase has 250 clients in 18 states and three countries, including the US Air Force, and we are proud to have played our part in the early successes of the company.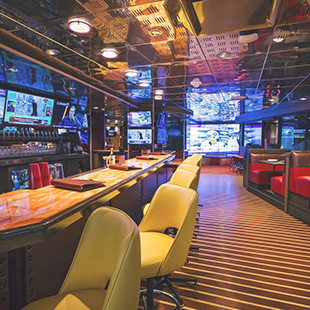 Striders Naming
This San Diego-based startup set out to create a unique entertainment experience, combining great tasting, casual dining, classic cocktails, craft beers, and a unique high-end Las Vegas-style Turf club lounge. The name Striders was crafted to hint at the horse racing portion while making it easy to refer to as a location in conversation. It further evokes the casual club lounge with a sense of motion and urgency, while lending itself to a scalable brand concept.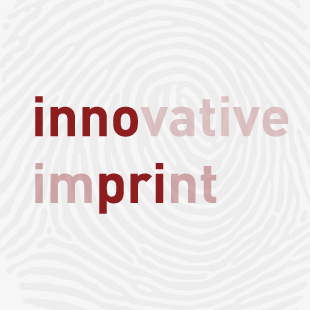 innopri Naming
This San Diego-based HR consultancy startup approached us when the founder realized that working with major tech clients demanded a name with energy. The name Innopri was derived from a mash-up of the terms "innovative" and "imprint". The term "imprint" connected with the client to leave a positive impression (or "imprint") on the client organizations, while innovation alludes to the consultancy's unique process as well as the innovative nature of their clientele. A lasting imprint was crafted.
CO-OP Financial Services Internal Brand Strategy
Long-term credit union financial services client CO-OP tasked us to create a brand strategy surrounding internal initiatives. From a consistent naming convention to identity creation, we ensured that each initiative had enough freedom to be welcomed by its group, while fitting into an overarching brand architecture matrix. The brand system put in place allows for scalability while presenting clear guidelines for any new initiative, from visual and verbal guidelines to checklists when an initiative should indeed be seen as one and deemed logo-worthy (rather than being just a one-time event). Looking at brand issues from the top down first while diving deep into the emotions of each initiative's owner and its audiences made this project an amazing experience and a big win for the client.
CO-OP Financial Services B2C Brand Strategy
Overseeing the brand strategy and creative brand vision for CO-OP, together with the CMO, we were tasked to review the B2C brand component of the overarching organization. We derived the tag line 'Access. Simplified.' to connote to the many financial products CO-OP offers Credit Unions and its members that allow them access to more ATMs than any bank in the US, while Shared Branches and multiple apps allow for easy access, simplifying Credit Union members' lives. A consistent brand identity design language was derived to encompass all consumer-facing products. The identities hint at the overarching CO-OP brand design, using the red/white stripe combo, while establishing a unique look on themselves. Guides from typography, by-lines, nomenclature, and colors have been set in place to ensure a consistent brand image that is extendable into new offerings as they develop frequently in an ever-expanding and evolving organization and industry.
Jackery Brand Strategy
Jackery hired us for a Resonaid™ brand strategy workshop in Silicon Valley. As we defined the values, personality, and analyzed long-term plans, we ended up diving deeper into the emotions of the target audience. The biggest epiphany translated into a tagline and advertising concept that is now being used nationally. It hones in a target group that is seeking Jackery to 'empower their lives on the go.' It sure empowered the brand story, marketing, and subsequent growth. "What a difference a day makes," to quote Her Majesty Dinah Washington.