htLAB: Let's Lay the Foundation For Your New Brand on Nov. 4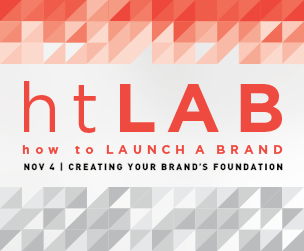 Are you an entrepreneur or tech startup ready to move your venture from ideation to reality? Do you have a great business idea, but need help formulating it into a solid brand that will attract your target audience?
Then be sure to attend our upcoming htLAB Workshop, based on the #1 Amazon Bestselling book 'How to Launch a Brand', where you will have the chance to develop a Brand Platform for your new venture. What is usually a $15,000 deliverable, we've developed into a 1-day intensive where you get to meet and brainstorm with other like-minded entrepreneurs while working hands-on with Fabian Geyrhalter, Principal of FINIEN. Fabian will use his 13 years of experience working with clients such as Evolution, Goodwill, and the Bill & Melinda Gates Foundation, to walk you through the process of launching a new brand and work closely with you to accomplish the following:
Formulate a brand introspective that will dig deep into the essence of your brand and help you build a foundation that will guide the brand's future
Analyze the visual/verbal aspects of your competitors and develop a plan that will enable you to set your brand apart
Create target audience personas that will bring your audience to life and help you formulate a brand strategy that will connect with them on an emotional level
Discover the personality archetype of your brand which will act as a guide in the creation of your brand's tonality and look-and-feel
Learn what makes a great company name and analyze your own company name if you already have one selected
Get tips on effective Identity Design, learn how to create a cohesive Brand Atmosphere, and discover the in's and out's of Website Design
Come ready to work — preferably with your laptop or tablet in hand (WiFi and power will be available in the conference room). At the conclusion of the seminar you will have created the core of your Brand Platform for your company or product. This document (valued at $15,000) is the foundation upon which your entire brand will be built and will act as your launch manifesto and guide. This is an exceptional deal at only $699 per person, so sign up today to get your new venture off to the right start.
You should only attend if you have a well-formulated new business idea that you are serious about launching in the next 4 to 48 months.