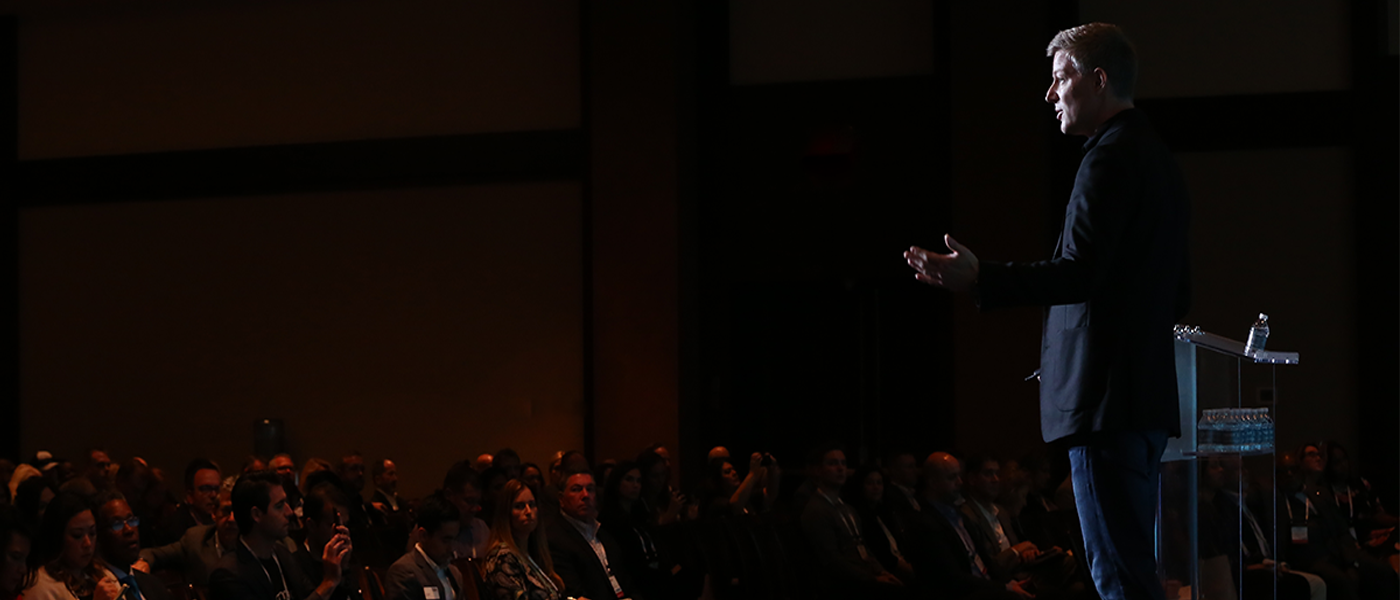 Fabian Geyrhalter is a brand strategist and creative director who was born in Vienna, Austria, and has been living in Los Angeles for over half his life. He understands that any venture can turn into an admired brand if developed in an intrinsic, holistic, and methodological manner.
Fabian has deep expertise in guiding companies through their brand transformations, and FINIEN has been sought out by companies such as Marriott International, Warner Brothers, Match Group, Honeywell, Kaplan, and Randstad. His thoughts on branding have appeared in publications like Inc., Forbes, Entrepreneur, and The Washington Post.
All three of his books became international Amazon best-sellers and turned into go-to resources for entrepreneurs and marketers alike. From his Resonaid brand strategy workshops to the Hitting the Mark podcast, Fabian is in a constant stimulation cycle, which is clearly visible when he advises clients or shares his insights with his followers.
He is also a sought-after speaker who enjoys traveling the world to hold keynotes and group workshops, where he shares his actionable brand advice in an engaging and direct way.
Speaking inquiries & events
1/6

Fabian's closing keynote was fantastic. This entertaining and inspiring address with actionable insights for our attendees was the perfect conclusion for our program!
2/6

The session was BEYOND incredible and the perfect start for our event.
3/6

You crushed it tonight. Loved the energy, enthusiasm, and humor, to say the least.
4/6

Fabian has an inherent gift for turning the art of branding into a systematic approach, which he communicates beautifully.
5/6

Fabian is a symbol of dynamic speakers on branding and design thinking. I was at the edge of my seat, he immediately grabbed the attention of the audience. I highly recommend him when considering an expert on the subject.
6/6

An excellent speech last night! The audience rated you a 9.56 out of 10. Very few speakers get 9 ratings!
Current Speeches
These are customizable to 20 to 45 minute formats and are usually followed by a Q/A, a book signing and/or a fire side chat.
On The Branding Couch With Fabian Geyrhalter – 'Brand Therapy' lecture to be followed by a deep dive into audience brand pain points
Based on Fabian's book 'The Brand Therapy Book'
Key branding lessons that any company leader or marketer needs to know to save time and money while winning hearts and minds
Audience: Entrepreneurs, Business leaders, Marketers, Graphic Designers, Brand Strategists, Business or Marketing Students
Bigger Than This – How to turn any venture into an admired brand
The 8 traits to become an admired brand in today's age
Audience: Entrepreneurs, Business leaders, Marketers, Graphic Designers, Brand Strategists, Business or Marketing Students
How To Launch A Brand
The step-by-step process on how to get branding right the first time
Audience: Entrepreneurs, Business or Marketing Students
Next Eventswith Fabian
Past Events
Art Center College of Design
Business Rockstars
California Institute of Technology
California Women's Conference
Cal State University Long Beach
Cal State University Northridge
Chapman University
Coloft
Concept to Code (TV-On-Air Mentor)
D.CAMP, Seoul
DC Startupweek 2022
E-Commerce Week L.A. 2021 (Moderator)
Exploration Institute
Founder Institute (LA, Orange County, San Francisco, San Diego, Silicon Valley, Zagreb, Singapore, London, Toronto, Frankfurt, Helsinki, Barcelona, Vienna, Berlin, Munich, Seattle)
Founder Institute VC Lab
Founders First Capital Partners
General Assembly
Ironfire
Intuit, San Diego
Internet Hungary Conference, Budapest
Japan Business Association of Southern California
Loyola Marymount University
Mentorbox
Miami Ad School ('Industry Hero')
Michigan State University
Milady Ignite 2022
New York Institute of Technology
Pepperdine Graziadio Business School
Plug And Play Tech Center
ROC
Santa Monica College
SIA Healthcare Staffing Summit, Las Vegas
Silicon Beach @ USC
Startup Weekend
Tech Coast Venture Network
Techweek Los Angeles
The Futur
The New York Public Library
THINK '15, Colorado
University of California, Los Angeles
University of California, Irvine
University of Southern California
University of Zagreb, Croatia
VentureApp
WeWork
Westwood College
Wolves Summit, Warsaw
Women Founders Network
Wonder Women Tech
YPO
Mentoring Opportunities for creatives