Damage Control For The Misused And Abused Word 'Brand'
"The word 'brand' needs a re-branding – due to its brand longevity the brand legacy is not brand-correct anymore," I heard myself say unexpectedly in an interview earlier this week. It has been on my mind for a while. To no surprise, running a brand consultancy I am using the word a hundred times a day. Furthermore I just published a book titled 'How to Launch a Brand'. The word gets tiring, especially since it leaves a bad aftertaste and I feel the need to first convince people that it is not a bad term before I start talking about it any further. Brand is not a four letter word.
Despite the negative connotations with the term, branding is more important today than it has ever been before and it is not only consumed, but furthermore created and curated by the masses through their very own personal (public/social media) brand. Brand is alive and kicking and we will not be able to change the term, but one can change the perception away from luxury good logos (Gucci, Chanel) and larger-than-life corporations seen as evil-doers (Exxon, Walmart) to a modern necessity, which, if created and nurtured in an honest and authentic way, turns 'brand' into a holistic 'aura' of a product/service provider (or person) that we are allowed to have admiration for (From an iPhone to a Celebrity), aspiration towards (From a Nonprofit to a highly ranked University) and sometimes draw inspiration from (From Ted Talk to Oprah).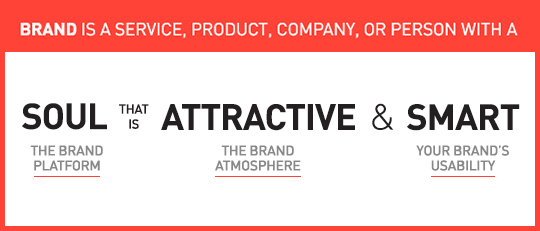 To me, a brand is a service, product, company, or person with soul, that is attractive and smart.
1. Soul is the beating heart, the reason a company should exist and why your initial attraction matures into love. You put your trust in brands with a soul and most often your money follows soon thereafter. Not much different than with human relationships, soul is the reason why we care for each other, or a particular brand.
2. Attractive is the brand aura that allows for the gut instinct emotional connection you feel when getting in contact with the brand. It is the design and the voice that is carefully created and curated over time in a particularly consistent manner. Attraction is not to be mistaken by shallow beauty.
3. Smart is its usability. How easy is it to engage with the company/product/service/person? In the tech industry it is User Interface and User Experience, with consumer products it is the product and packaging design and with services it is often the design of key offerings combined with its delivery.
Now that we 'talked' about the complex strategy that creates the beautiful simplicity that makes a brand, maybe we should give the word another chance?