If Your New Brand Lacks Soul, It Lacks Voice (Which Makes It Rather Difficult To Be Heard)
I have a ritual where I take a bath Wednesday nights (there may be a glass of wine involved, yes) to ponder what I will write about in the New Brand Post the following day. I have a flexible editorial calendar I work with, but it has holes and can be arranged to my liking or to encompass spontaneous thoughts. Last night I realized how insane and equally wonderful it is to write what hundreds of people expect in their mailboxes every Friday morning (sign up if you haven't) just the day before. As daring as it may sound, strangely I never encounter "writer's block."
If you can not find the soul of your new brand, don't launch it. [Tweet]
When a dear friend of mine first convinced me to start using Twitter, I told him that I was not sure I had enough brand-related content to share with the world. 3,654 tweets later (follow our new account) I realize I have a lot to share. If you create a brand that has soul, it will have a voice. If you are passionate about the subject, you will always have something to say. If you create a new brand and feel like you might not have enough content, analyze your Brand Platform and go soul searching again. If you can not find the soul of your new brand, don't launch it. It's that simple. Today's consumer listens, absorbs, and responds. You will be part of an open conversation and as a new brand you need to be the one starting it.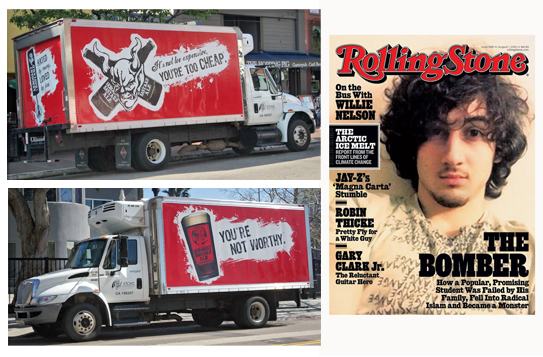 Arrogant Bastard Ale found its soul, reflected it in its name and hence has no problem voicing and monetizing on it. The highly controversial cover design of the latest issue of Rolling Stone magazine is a timely example of the power of brand and consumer voice. You can sometimes push it and might at times abuse it (as I see it being the case in RS magazine). As a new brand you need to clearly establish what you will focus your conversation on and how you will speak not only to, but more importantly with your audience. Use your Brand Platform as your brand launch manifesto and brand voice guide. Share a synopsis of it with your extended team, and refer back to it religiously. Pin it to your wall and stare at it every time you (or your content manager) start writing content or engaging with your audience. As much as consumers will buy into your new product or service, they will just as much buy into your brand voice. If Arrogant Bastard suddenly writes a cute statement or Rolling Stone Magazine publishes a boring cover, the brand voice fails the brand's soul and the brand as a whole will subsequently, over time, lose its power. Make sure your new brand's voice is consistent. Consistent with your brand's soul, and hopefully consistently engaging.

RELEVANT CONTENT
Pick up a copy of our #1 Amazon Bestseller: How to Launch a Brand. A Step by Step Companion For Your Launch.
CATEGORIES: Blog Your Brand Launch: Brand Atmosphere Your Brand Launch: Brand Strategy
TAGS: Arrogant Bastard Ale, Brand Launch, Brand Platform, Branding, Content Creation, Content Marketing, Copy, Manifesto, Rolling Stone Magazine, Soul, Tonality, Voice, Your Brand Launch
---