'Tis The Season of Giving Thanks: Employee Holiday Incentives VS Restrictive Startup Cash Flow
I spend my days talking about early stage branding with startups and I learn a lot about their behaviors, struggles, fears, and of course their amazing energy and innovative mindset that I thrive off. At times I will use the New Brand Post platform to discuss startup culture and give entrepreneurial advice. It will save you from getting brandexia (a sudden sensation of anxiety caused by the over consumption of the word 'brand' by entrepreneurs, often leading to serious cases of brand self-awareness), while still gaining actionable insights and advice for your early stage startup.
As the holidays are approaching (Happy Thanksgiving to my US-based readers), so are company parties, chatter about Q1 goals, and speculations about holiday bonuses. Let me start off by saying that cash-based holiday bonus incentives are a wonderful thing, no doubt about it. I always love giving as well as receiving them thoroughly. Employees appreciate the gesture of appreciation and the fact that they may be able to plan a trip or buy some gifts they otherwise might not have had the opportunity to afford easily. But people investing their time and talent into a new venture understand that cash flow is one of the keys to the survival of the venture, that cash needs to be put to work in small chunks and in strategically calculated places that will directly impact the company's growth (and yes, brand). Most early stage startup employees are very aware that they made a commitment to give up some traditional monetary perks for being part of the startup tribe, for investing into their future.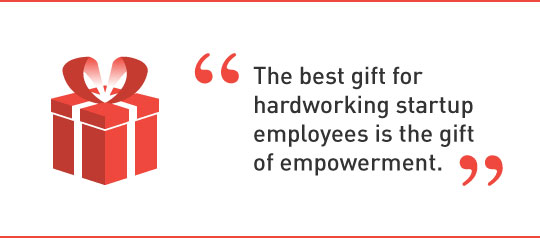 As a founder of a new cash-strapped venture, the most cost-effective and best gift for hardworking employees is the gift of empowerment. Create public awareness of staff by talking about their valuable insights and specific contributions they made to the company, publicly via a blog post or newsletter with the title 'The Season Of Giving Back To Those Who Gave (Your Company Name) Their Best in 2013'. Mention each and every one of them with specific insights they provided, or actions they took that moved your company forward, full names and photos included. If you have more than 8 employees, spread it out through the month of December. Share it via Social Media and tag them so the article shows up in their networks signifying that this is not out of self-interest, but pure thanksgiving.
Instead of giving a low (= insulting) cash bonus, or a gift that may or may not resonate with your staff, try honest public praise and let me know how it is being perceived. I bet they will thank you, sincerely.
---