Hitting The Mark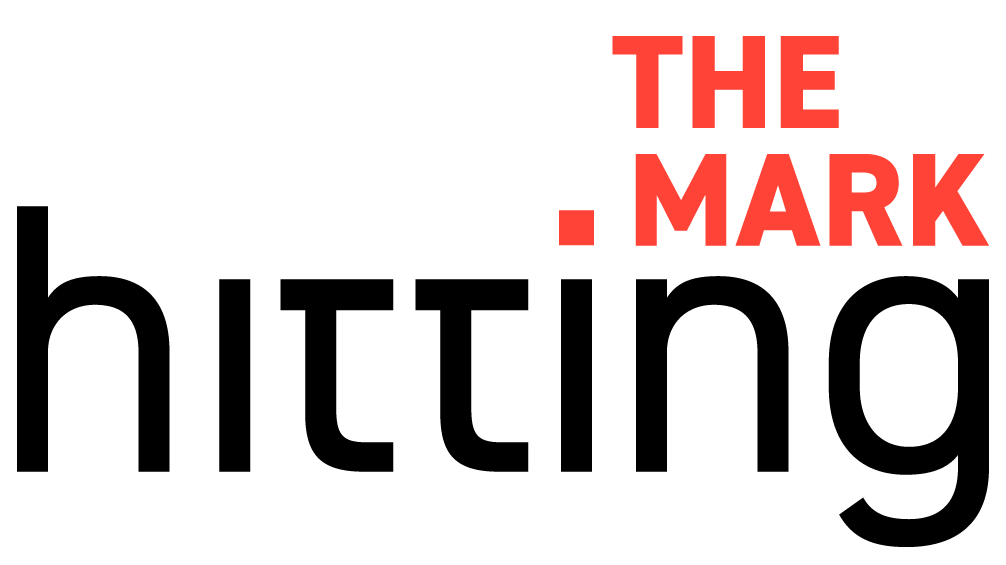 Conversations with founders about the intersection of brand clarity and startup success with your host, brand strategist and author Fabian Geyrhalter.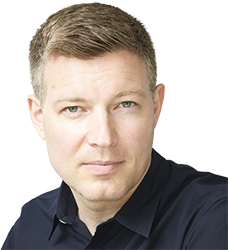 Featuring the founders of brands you know and brands you are excited to get to know:






EP081 – LOOP Mission: Julie Poitras-Saulnier & David Côté, Co-Founders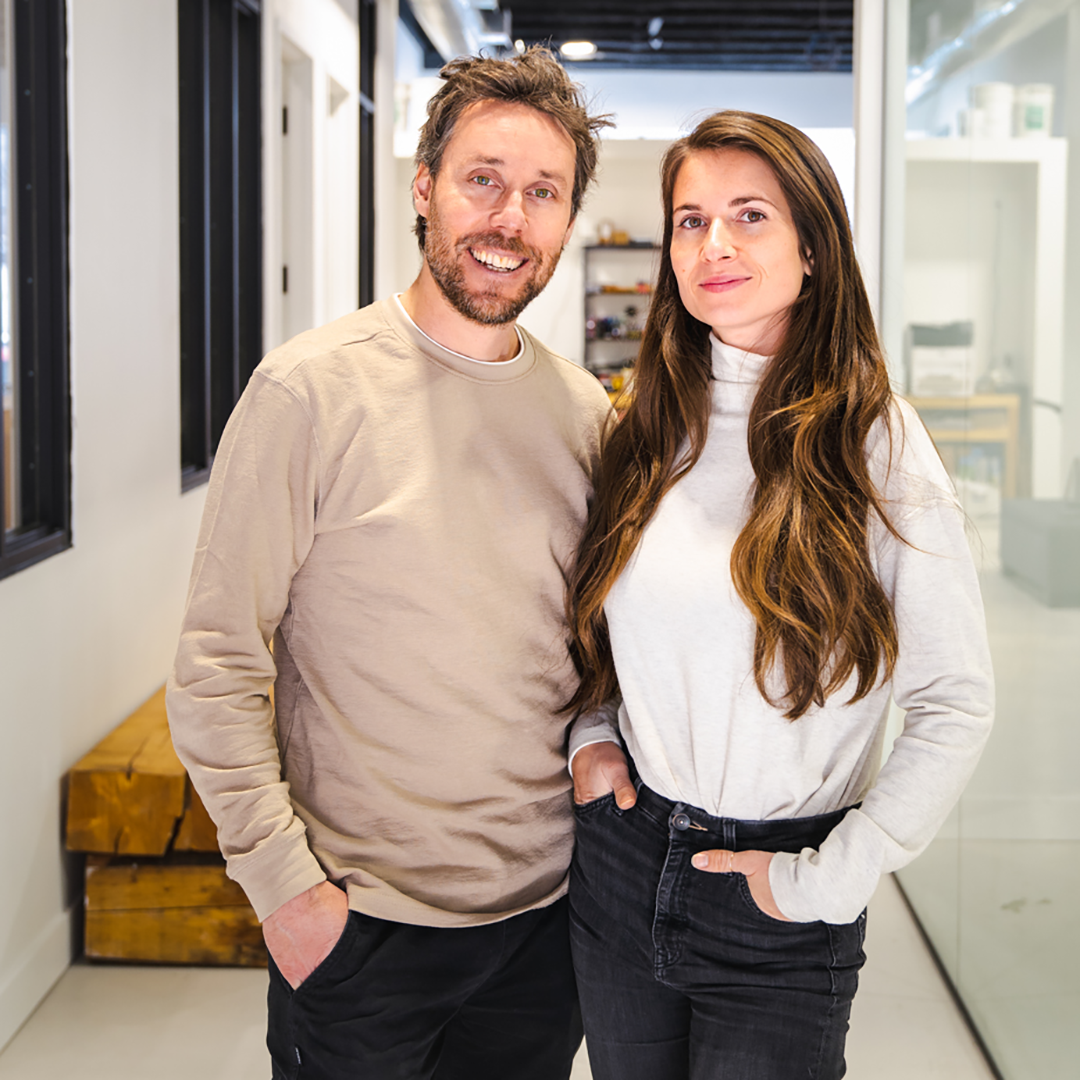 Strategic Clarity + Verbal Clarity
David Coté and Julie Poitras-Saulnier run LOOP Mission which collaborates with major food industry actors to save perfectly good, but rejected products discarded before reaching grocery stores and transform them into products such as juices, smoothies, sodas, beer, gin, soaps, and dog treats.
I have to be frank and I can cut this intro very short: I have a complete brand crush and to me, LOOP is inspirational on so many fronts that it would be silly to mention them and instead I will assume you will trust my opinion and dive right into this episode where Julie and David share the way they continue to build their ever-expanding brand upon purpose – with a twist of wit.
Notes
Fabian Geyrhalter:
Welcome to the show. Julie and David.
David Côté:
Thank you.
Julie Poitras-Saulnier:
Thank you.
Fabian Geyrhalter:
It's so amazing to have you here. I mean, it's amazing you found time to be here. Let me quote an Instagram post of LOOP from a few days ago. Here's what it said. And I'm sure it was one of you saying this. It says, what a year this month has been, which I absolutely love. And then you list out all the things that you did in this month. We opened a new factory. We held a press conference. We received a DUX prize for our probiotic sodas. And it keeps going, going, going, going. And then in the end you say ready for what May has to offer. So I guess let that be my intro and let Hitting The Mark be just one of the many things May already has to offer for you. It's been a crazy couple of weeks for you. I know that based on following you on Instagram. But before we jump into that, tell us how it all began. In 2016, you launched disguised as a juice company but you're not a juice company. You're also a soap company and a beer brand and you distill gin and you sell dog treats, but none of that is really at the heart of the company. So tell us a little bit how everything came about.
David Côté:
I love to hear it in someone else's voice. I love it. We sound a little bit all over the place, in a constructive way. But it all started with love actually. Julie and I met in a Ferris wheel, which sounds absolutely like a cartoon.
Fabian Geyrhalter:
Can't be.
David Côté:
Yeah. But it's actually the reality. We actually did meet in a Ferris wheel and we stayed in the Ferris wheel for hours. And we just liked the way our each other's brains were working and we're very different, Julie and I, but we're also very compatible. And we decided on that day that it will be nice to start a business together. And in the same period, we got a phone call from a guy that was throwing away 16 to 25 tons of fruits and vegetables every single day. And the guy called us because he knew me because he was buying my kombucha, because I had a kombucha company before this. And that's how everything started. From there everything trickled down. I can let Julie keep explaining.
Julie Poitras-Saulnier:
Yeah. At that time I was as in a place in my life that I was already working as a sustainability specialist in the food industry, but my dream was really to create a business that the more you sell of something, the better it is for the world. And I thought it was so challenging to show that to the industry that I was like, "Okay, I need to start a project." At the same time I was super scared. Scared of the risk, scared of not succeeding, scared because I've done this traditional path where I went to school, I did a master degree, I had a steady job. And then I met David and we're like, Okay, we have this opportunity of saving this food that is being wasted. And this is also an opportunity to show the industry that there is value in this weight. And we're going to create that project out of… Based on circular economy that upcycled everything that is wasted and transform them into juices. So it's really how it started all.
Fabian Geyrhalter:
So it's kind of hilarious that this started in a Ferris wheel. So I am wondering, has this story been at all made up Julie or do you attest to what David said that this all started in a Ferris wheel? Because, look, LOOP, the logo, the idea of LOOP, the Ferris wheel, it's all coming together a little bit too easily here.
Julie Poitras-Saulnier:
Yeah. It's 100% true, even though David is super romantic and he could easily have made that up. Now it's really the way we met and it's crazy because we didn't realize that we were creating a project called LOOP and we met in a Ferris wheel and there was also a connection there. We realized that I think a year after the project was started. We're like, "Okay." It's also linked to our love story and it was pure coincidence.
Fabian Geyrhalter:
And that's how authenticity… That's how you started running the whole show with authenticity, I guess, which is still so deeply ingrained in your company. But before we get that, let's go back to when I did the intro and I said you're totally busy, you're super swamped, things are crazy. And you wonder how exactly crazy they can actually get. Well, you are in a new factory right now and literally David just ran from it or he's still in there. I saw him with his net on his hair before. But you are behind with everything in a new factory. So you are unable to currently fulfill orders. You clearly stated on the website, you come to your website right now and it just basically says… It's a splash page before you go into the website that says, "Hey, sorry, but here's a little video of us explaining what's going on." That's huge. I mean, hugely successful on the one hand that you have so many orders, but on the other hand, this is crazy disruptive to you right now. How are you dealing with all of this?
David Côté:
Fabian, you have no idea. This is my third business. Always in sustainability and purpose driven company. And I've never seen this in my life. The rapidity of our growth, but also the fact that this was linked with the opening a new factory and opening the US as a market or just launching in Sprouts basically next week. All of this together slammed us so hard because our volume is going up but we have to ramp up a factory that the machines are brand new and they're not really fully set up yet. And they're not all talking to each other. And it's a lot of new employees also because we moved… We not only changed factory, but we also changed neighborhoods. So we're in a different place. So not everyone could actually come in a new space. So we have a lot of new employees. So all of this together created such a catastrophic explosion. We're basically very behind. We have a field rate of about 40, 50%.
We can't supply our demand. A lot of people tell us, "You know what guys, it's a beautiful problem to have." But it is? But also for Julie and I we're very customer based and we want to please our customers as much as possible and they're the most important thing for ourselves because they're the one that are supporting our mission. They're the ones that are in there since the start supporting us. And even those little cafes and bakeries, they were the first customers to us. We have to tell them, "Guys we're sorry we can't supply you because we can't make enough juice right now." It's really hard emotionally really. But we see the light. I totally changed my way of working. I used to be, a few weeks ago, in front of the computer and with Julie doing meetings and doing business dev and new projects and R&D, and I became a factory production manager basically. So now I'm on the floor every single day from 6:00 AM to 7:00 PM. And I make sure that we pump as much juice as possible to our customers.
Fabian Geyrhalter:
All hands on deck. And that's how it has to go sometimes. But it's amazing because obviously your product was so good that everyone wanted it. Your mission was so important that everyone understood it. And your marketing was too good that it kept pushing it. And so now basically you created a really great monster. But being in midst of that I can only imagine how it feels. But you're also super authentic and transparent about what's going on. You have a Behind The LOOP video series and many would think that it may not be ideal to talk about how behind the factory is, especially if you just closed big deals with Sprouts and pretty big retailers here and you have to close the e-comm sales. And a lot of people would think that is maybe not the best thing to talk about publicly. But how has that philosophy of transparency and authenticity helped your brand growth?
Julie Poitras-Saulnier:
That's actually always has been our number one priority with our brand, is to be 100% transparent with consumers to really talk about everything that's going on, the good or the bad for us. We believe that we're sharing a journey. Our journey to create that company that wants to tackle food waste, that wants to find a solution to this massive issue that is food waste. So for us that's always been something really important to be fully transparent, to communicate everything that we have. And we think that's the way also that consumers can be our partner, can be our… Let's see, come with us in this old journey of tackling food waste and not just be like everything is perfect. No, it's not.
And we also want to inspire… From the beginning we wanted to inspire the industry, inspire people to do things differently. And it comes with challenges. Of course, it comes with bad things, with good things. And for us it's been really important to share that and to ensure that there is also a young entrepreneur that starts a project, that listens to our series, that looks at our videos and are like this is the way you do it. Okay. There are challenges. I'm not alone. I'm not alone living these things and other companies have the same issues. I think it's also creating a movement within all the entrepreneurs. There is a lot of small food entrepreneurs that are trying to solve this, create these businesses and have these issues. So we just want to share it with the world.
David Côté:
I mean, if I can add, we live in a world where social media has taken over with most of the time really one angle. People always show themselves on their best angles and on their best image and best views and everything is always peaches and cream. And we feel like customers connect more with the brand and with us if we really show the real because nobody is peaches and cream. Everybody has ups and downs. We're all living this. And so we can connect more with the human side of a company. I think we live in an era where consumers don't want to just buy a product. They want to buy a story. They want to associate with themselves. We build our whole identity with the products that we buy because we live in a consumerism society where we buy a lot of stuff. So now we associate our identity with what we buy. So if we can share a bit of who we are and our depth, and the purpose of what we do then we can help people take a little bit of that identity with them and make them feel like they're part of the mission with us. Because they are really.
Fabian Geyrhalter:
I so wholeheartedly agree and support every single thing you said. It makes tons of tons of sense. But you're taking it further because you're a couple. You're both basically the person as the brand. Very obviously so makes tons of sense. People love authenticity, like you said. And both of you are handsome and charming, you've got the accent, all of this works. But was there… Says someone with an accent. But was there ever a moment where you felt you may be overextending yourselves and it would be nice to maybe be behind the scenes for at least one of the two of you? The reason why I say this, is because a lot of founders when I work with them early on they ask me if they should step up in front and become the face of the brand and let their own personality and everything come through or should they remain behind the brand. And I'm sure that your advice would be very helpful for them listening.
Julie Poitras-Saulnier:
For us it's always been super natural. We didn't think of it at the beginning like we're going to put up ourselves upfront, but since we wanted to share that story it's always us behind what's going on. But at the same time, it's make it easier that we're a couple because we breathe LOOP every day, we live LOOP and it's so much part of our life that we are willing to share it. And just to give you an idea, I'm so not a person on social media. I don't even have an Instagram account. I haven't updated my Facebook profile picture since I think before even starting LOOP. Yeah. Before even meeting David. It's the same picture. So, I'm really not a person of social media. It's not something that feels like I'm pressured of doing at LOOP because it's really we don't do the same thing and practice a text and have to do it again. And it's something that is super natural that we live our day to day activities and people just are there filming and taking picture. And for us it's always been something that is super easy to do as part of the rest of the day. And it's not been something that needed to be added.
Fabian Geyrhalter:
I really like this. And I always say… And I thought about it again. I thought about that again yesterday when I looked at your website and your Instagram and you started blending a little bit of that tongue and cheek, and those quick videos and this not overly produced footage. You started blending it from Instagram over to your website. And it inspired me personally. I launched another company, it's in the product space, and I looked at it and I'm like, "That's what every brand needs to do." And I think it's so important because when I want to get to know a brand I don't look at their website. I look at their Instagram, I look at their social channels because that's where they come to life. I'm like, "That's what they're really up to and that's how they really look and this is how they really work. And this is what's really going on, versus this perfectly composed website that in the end really doesn't tell us anything." And so I was inspired looking at your site and how you started having some of these more gritty video loops in the background and then the perfect product shop next to it. And I think that there's a certain balance that us, as consumers, I think we really ache to see that. So I very much agree with that.
David Côté:
Yeah. To me it's the future of any CPG brand. Not every consumer cares really and wants to know who's behind it, but most of people are starting to be interested by that. We want to know what values hold every brand that we buy. Anyway, I'm a consumer like this where I'm very curious about who's behind something and who I'm encouraging and who I'm giving my money to really. It comes down to this. Yeah. I really think it's the future of every brand, as you say Fabian. I totally agree with you.
Fabian Geyrhalter:
And even if it's not necessarily a founder, because not every… Some founders would say, "Look, I really don't want to be in front of the camera." For whatever personal reasons. That's totally fine. You don't have to be. You can still build an authentic brand. You can still tell the stories. You can still show the floor. You can show the employees. You can have people live and breathe that vibe that's within a company that needs to come through in order to connect with the consumer. But you are also doing something really exciting outside of it where LOOP is not a closed network that's all about you as a company. You open it up and you call it LOOP Synergies, where you really found a way to maximize the impact of your mission through partners. And I'm super interested to hear, I think that's pretty new couple months, but tell us a little bit about LOOP Synergies.
David Côté:
Absolutely. Well, LOOP Synergies is something that came out because when we launched our circular economy projects six years ago we were the only ones upcycling and talking about food waste. We were really just the ones… There was nobody else in the market doing it. And now there's been many companies starting to pop that talks about upcycling that wants to rescue a popsicle company, a chocolate company, cookie company and they incorporate rescue ingredients into their packaged goods. And what happens is that, most of these companies realize that once they scale up it's very hard to manage the supply chain of overstock. It's very complex because it's fresh produce. It's not IQF. It's not frozen or pureed or aseptic juice.
It's really fruits and veggies that were… Their destination was a grocery store. So they're packaged, the strawberries are in a clam shell, the grapes are in a bag and you have to manage all of these overstock. You need manpower to open it and to transform it. So as soon as you scale up as a food manufacturing company, any QA or any person doesn't want to deal with this. But people want to use the messaging still because they see that it's something on trend. And that's when people started calling us. Most of the project that we started it's more people calling us than us saying we are going to do this. The problem with Julie and I is that we have a hard time saying no.
Fabian Geyrhalter:
That is a big problem.
David Côté:
Well, yeah. Well, because at the base of our core, Julie and I, we're environmentalists, we're activists. We want to make a change out there. And we've realized that to make the biggest change we needed to have a company that grows and that influence other corporation. And now all kinds of people out there are calling us to say either, "I have a food waste, can you take it?" And other companies are saying, "I'd love to incorporate food waste, can you help us?" So we've realized that we are becoming the calling center for either the people that want to create a type of product. And mostly all the organizations that have so much food waste such as Delmonte, Kraft but also Farmers, greenhouses, all of these people are calling us. We have a black book with all of the addresses and name and quantities of food that is wasted in our proximity. And proximity is about a 700 mile radius, which is pretty big.
Fabian Geyrhalter:
Wow.
David Côté:
Goes all the way to New York. And the amount of produce that we have or other thing like crust or dough or chickpeas, we're probably about 500 tons a week right now. That's how much stuff that people are offering us. So, Julie and I just want to find a solution. And LOOP Synergies came where we thought, "You know what? We're going to take this overstock, transform it for people to make it more stable. Either a powder, a puree or a juice that's frozen or pasteurized, so that these companies can buy it and they know that the product's always going to be stable so they can put it back in their ingredient list." Basically.
Julie Poitras-Saulnier:
Just wanted to add that it's basically a way for us to be that middle men and ensure it's easier for the food industry to use up cycled ingredients. Because we've overcome so many challenges of working with that. But in the industry, people need specification, always the same spec sheet, the same PA, the same breaks, the same quality of what you buy. And this was for us a way to create these ingredients and create a movement within the industry that everybody can just substitute what they currently have in their product, buy something that is up cycled really easily. And at the same time for us in terms of branding, we have some added value because these companies we have a partnership with them where they put our logo on their packaging. See that, for example, they are a yogurt company that substitute its strawberry puree by our up cycled strawberry puree and they rescued strawberries with us. So for us it's a way to show that LOOP is doing these up cycling with these huge companies. And it's a way for us to ensure that huge corporation can also embark in that journey of circular economy.
Fabian Geyrhalter:
And it's interesting how the LOOP logo becomes a stamp of authenticity the same way that an organic or fair trade or any of these organizations and stamps are an approval for the consumer to say, "Oh, this is what that is." So if there's the LOOP logo it's like a nod to this is how this product was being created. Really interesting. I'm excited to see how that's going to be scalable and how it really turns into something that the industry can adapt to.
David Côté:
It's actually a bit scary to us because we have so much demand already. And our team is like, "Julie, David, you got to stop. You have to let us breathe and do the project that we launched a month ago. We'd like to just have some time to work on this one before there's a new one coming." And we're like, "Well, we can't because we have to do this fast." To be honest, Julie and I are very in a rush. And the reason we're in a rush is because we don't have that much time. We need to… Food waste is the third biggest factor of greenhouse gas emission out there. So we know that by transforming this into a product, instead of sending it to landfill, we're having a major impact. But the biggest impact we can have is by transforming the ways of the biggest food corporation out there. So that's why we're in a rush to do it.
Fabian Geyrhalter:
I love that. And that's where there's capital behind it and there's a push to actually get this message out enough that the big ones start to actually notice it and more importantly start to act upon it. And that's really the only way to do it is to make an impact and keep pushing forward. Absolutely fantastic. When you look back, and looking back it's not that long, I mean, from 2016 on, what was that one big breakthrough moment where you felt like, "You know what? From our small idea, from our thoughts here, from our local idea, regional idea, this is actually… We're turning into a brand, something is happening." What was the one breakthrough moment where you felt like, where you looked at each other and you're like, this is the moment we will remember?
David Côté:
Julie.
Julie Poitras-Saulnier:
For me it's about when we started to receive phone calls from multinationals that were calling us to help them reduce their food waste. That was really the moment that I was like, this was the dream from the beginning to be that inspiration for these huge companies and to show them that there is value in what they waste. And now they are turning to us to help them find solutions and want to partner with us to upcycle food and that they show value in what we do. That was really the moment that we were like we are a company now. We're not just a startup. We're not just these two dreamers with this crazy idea. We have recognition, awareness and not only for consumers but really within the industry. And for me that was always the goal from the beginning to be that reference that a company would call to help them find solutions.
Fabian Geyrhalter:
David, would you agree that that was the big moment for you as well?
David Côté:
There was so many moments.
Fabian Geyrhalter:
Of course.
David Côté:
But yeah, this was for sure a big one. I think to me it was when we… It is going to sound funny because it was very small, but it was such a beautiful moment. It was when we made our first batch of juice. We were just starting. We were in our apartment, sorry, Julie and I. And it was just two employees, Julie and me. And we made our first batch of juice. And our first customers was a coffee shop downtown. And we went and sat down at the coffee shop and we looked at our juice in their fridges and someone bought a juice. A lady bought a juice and Julie couldn't believe it. She was freaking out. She was like, "Oh my God, this is happening. Someone actually ordered our bottle." And she went to the cashier and she bought it. And it was such a big… And we went to see that woman to say, "We just founded the company. This is the first juice that actually got sold ever. And it's the start of a big thing." And from there I knew that something was happening.
Fabian Geyrhalter:
Yeah. That is a huge moment. I mean, just witnessing that and knowing at the moment of this interaction, even though if it was just a couple of dollars, this is now real and that's huge. Talking about this being real, I also know you're doing these team retreats. I mean, you've got a fairly big team now. Not big enough as we know. But we also know it's growing constantly. But you're doing these team retreats and now you're doing it at your private property actually, which looks beautiful. And you spend the time to reiterate your values, your mission, your vision. I personally think it is one of… It's something that every company should do, where it's not just team building but actually it goes back down to, "Hey, we stand for this thing and every year we need to really rethink it and make sure can we go deeper or do we need to be more narrow, what needs to happen?" I have a couple of clients who hired me more than once to help them redefine the brand platform. So I know that this is super important. But, with your yearly offsite team building activity, do you realign prior just the two of you or maybe together with some others and then present? Or how do you share that re-invigorated brand philosophy amongst your team?
Julie Poitras-Saulnier:
It's actually a process every year. It's a couple months of preparation almost. We'll look at what we want to share and it's the same that we do with consumers. We're 100% transparency. So we're like, "Okay, what's going on? We really want to share everything." We show all financial statements, everything that's going on. And we also ensure that we redefine together and realign on many things. So the idea is not for only David and I to present or vision or present what is, for example, the values of the company. We want to develop these values and validate them every year with the entire team. So we look at what is important for us. We do activities to ensure everybody is on board with these values. And then we can adapt it for the rest of the year or adopt it. So everybody can live it because they know that they've been part of the process to develop this strategy or develop this mission statement.
So all these things that are super important for the company, vision, mission, values, planification, strategy planification. We do most of it during that moment. And at the same time it's a moment for us to really reconnect with the rest of the team to bond. We organize a treasure hunt at night with flashlights. I think it's something that really bond the team together and makes it a family thing. And that was also important for us to invite people at our place to make them feel part of… To make them see our environment, see where we live. We cook for them. Everything is really homemade 100% transparent again. And that's something really important for us. And I think that this year will be the first one that we cannot have it at our place because the team is too big now. And last year it was really stretched out. But hopefully we're going to continue to have the same spirit and share that same energy with the team but in another location.
David Côté:
I think we'll do it Julie. We'll just be very tight.
Fabian Geyrhalter:
And that's how the story's going to keep going on and on. You just have to move to a bigger place, even more space. That's how it is. Even though it looked like you have a lot of space.
David Côté:
We love our place. We live in the forest by a lake and I think that place is what kept our sanity during this whole process.
Fabian Geyrhalter:
I'm sure.
David Côté:
Yeah. I don't think we'll move pretty soon. If we're moving somewhere, we're going in California.
Fabian Geyrhalter:
Here we go. Well, you heard it here first. California realtors are going to start calling you after this. I like how you said that, yes, you prepare, of course, as a team for this get together. But the important directions from a vision and from a values perspective is something that you allow to be co-created so that everyone can really own it. And to me and you and I chatted a little bit before we hit record today about this. But to me that is so important because I don't believe in this idea of handing down a vision or handing down values. I mean, it needs to be something that comes from within because otherwise you can never live it. Otherwise, it's just words on the wall. And we know that's really good for nothing.
So really fantastic how you do that. We talked about the name LOOP before, but I have a bunch of brand people listening and to them this is important. So, LOOP is obviously a great name for your brand for very obvious reasons, which we don't need to explain. Was it always a logical planned step to lose the mission part in when you talk about LOOP and when… Obviously, the mission you never lose, that's at the heart. But from a logo perspective and from a branding perspective, was the mission part mainly to secure the trademark and the URL? Because I'm pretty sure LOOP was taking everywhere and now you're slowly losing it because it's easier to remember easier to say, et cetera, et cetera.
David Côté:
We're actually… Our goal, anyway, I guess we made a mistake because our goal is not to lose it. Our goal is to add the word mission everywhere. At first we were called LOOP Juices, this was our corporation name. But our bottle and our packaging had only the word LOOP on it. But then we realized that, as you say, there was so many brands of so many industries in every industry there's a LOOP out there, that it was very confusing for trademarks and for consumers in general. And Julie since the start, actually we made a mistake because Julie knew since the start when we did the brainstorm for the name and branding, Julie was like, "Guys, LOOP is too simple. We need to add the word mission." And she finally was right. So we added the word mission and now all of our packaged good are moving to having the word missions with our logos everywhere we'll have the word mission to it. So we're creating a new logo with the word mission in it. And it's very important for us that it comes together. So now we're not LOOP, we're really LOOP Mission. And to us it's stronger because the purpose is directly linked to the actual brand of the company.
Fabian Geyrhalter:
And David, you can try your best to be LOOP Mission, but you will always be abbreviated to LOOP. Because that's how consumers… They're not going to say let me grab one of those LOOP Mission beverages. They're like, "Throw me LOOP."
David Côté:
And this is great. If it comes from the consumer, it's perfect. This way we can actually… We become LOOP in their mind. And then we take over that word. But it's not something that we want to force them to do. And we want to make sure that they still see this word. I mean, if this is what happens, we're happy.
Fabian Geyrhalter:
No, totally. Totally agreed. Now that we're knee deep in that conversation what does… I mean, obviously you both… I mean, David, you started numerous companies before. Julie, you have your masters. You've all been in business for a while. You've been through a lot of different iterations of different types of businesses. Now that you launched LOOP or LOOP Mission, what have you learned? What to you does branding mean to you now? Branding used to be, "Oh, it's a logo." But what does branding mean to you now? I'm going to start with Julie and then move over to David.
Julie Poitras-Saulnier:
I've always been passionate about branding. I don't know why, because I was not in that area really before when I was doing my master in sustainability was not really about branding. But when I started to really work in marketing, I was really passionate about how you express something with your brand. So for me branding is really about communicating, expressing something to consumers. So our vision, our values, our personality, what we stand for, it's really to show our color. And it was really important for me that the brand represents us. I wouldn't be able to launch a brand that is just to serve the purpose of consumers. To have this market CGs and be like, "Okay, that's what consumers want. So we're going to say it this way or that way." So it's really we've created something that we feel like represents us. And we're lucky because it worked. But I wouldn't be able to just adapt it to make it work with consumers. So it's always about showing who we are and then you are willing to go on that journey or not in a sense.
David Côté:
Marketers don't like to hear this because you make a market study and you really isolate your persona and then you make a brand that will talk to this persona. I mean, Julie and I were lucky enough to create a brand that we are the consumer target. So it's easier for us to actually move forward and have ideas and move the brand along with us and the way we're evolving also at the same time. But it's not always like this. We're just very lucky that we're the target audience.
Fabian Geyrhalter:
It is so much easier. Absolutely. It is so much easier. And that's also when it becomes so much more intrinsic that you can be so authentic. Because if it is for people like you, like minded, then it's easier to just be yourself and not go by a script. And any brand should do that anyways. Yeah.
Julie Poitras-Saulnier:
And I just think that for us because LOOP is so much us, we will lose our fun. It's not something that resembles to what we like. It just doesn't feel authentic. And I think authenticity shows that's the way we make it work despite the fact that usually marketers say, you're not the consumer necessarily. Don't necessarily try to just speak to you. But the way we make it work is that because we do that, that's what makes us happy and have fun and be passionate about the project and want to do more because we love what we do. And we find that it's beautiful and want to try things and you want to push the limit always a bit further away. We're like can we say that? Can we go that far? Can we launch a soap made with falafel oil and say it to consumers? And it's part of the fun of developing that brand. It's to push the limits.
Fabian Geyrhalter:
It's so easy to say authenticity. Because everyone just thinks you're just yourself. No, it's not. It is so difficult. And it really is because… I'm running a startup on the side right now in the product space and I am now in this awkward position where, at least in my eyes, I think the whole world is watching me create my own brand. And here I am talking about authenticity and business. And then I have to really force myself to not put out every Instagram post and every Reel and whatever it is in a too polished way and actually step back and say, "No, make it more authentic." Actually, I have to push myself to be authentic. It's not easy. Everyone says it's so easy. It's actually not easy because the minute that you write something that is meant for the world, a marketing piece or brand copy or an image, you always feel like, this is the brand. But there's this fine line and I know it doesn't come easy. I'm sure to you, in the beginning, it might have not come as easy. Or because you started it bootstrapped it was always part of the brand. So you grew up with it most probably.
Julie Poitras-Saulnier:
For me, it was actually more difficult than for David because when I write it, for example, I cannot do an Instagram post because the way I would word it wouldn't be authentic. Because I don't have that easiness of making it really something real. So, that part I gave it to David because he is really good at it.
David Côté:
Let's say Julie is the more proper one in the relationship. I'm a bit more of the wild card that doesn't think too much, so I can write the way I think. So it talks to people very quickly because I talk in a familial way.
Fabian Geyrhalter:
Yeah.
David Côté:
It's easy to connect because it's not all… In French there's a word that we call léche, which means the perfect translation will be licked.
Fabian Geyrhalter:
It's not polished.
David Côté:
It's not polished. Exactly. That's the word. It's rough. It's what it is. And I think people can connect easily with this.
Fabian Geyrhalter:
Yeah. They can and I can attest to that and I'm a big fan and I would invite everyone to check out the LOOP Mission Instagram channel. Talking about what's at the heart of the brand, every brand wants to stand for one thing. At least they want to get this DNA that's in the brand across to their customers. If you would take, and with you it's funny because that analogy of taking it through a funnel everyone would think about the fruits and the veggies and everything. It goes through the funnel. But actually taking your entire brand through a funnel, what comes out? What is one word that best describes your brand? And you can have two different opinions here. It is totally fine.
David Côté:
Can I have two words or it's one word?
Fabian Geyrhalter:
It's kind of cheating, but you can. No, you can. Of course, you can.
David Côté:
I think the first word is purpose and the second for me is fun. Yeah. That's my two words.
Fabian Geyrhalter:
Julie.
Julie Poitras-Saulnier:
So I'm not going to cheat even though I had so many words. I have so many words to describe the brand but I'm just going to say one, I think it's witty. The way we communicate, I want it to be light and witty. And at the same time smart talking about deep subject that are really important, that are massive like food waste but in a way that is lighter for consumers, it's fun and it doesn't feel like we are trying to give a lesson.
David Côté:
Julie, I think you're cheating. This was many words.
Julie Poitras-Saulnier:
No, that's just witty.
Fabian Geyrhalter:
I don't want to cheat like David but here are my 17 words that I would really like to focus on. I love that. I mean, just to summarize that idea of making purpose fun or making purpose witty or having these two together which seem like they're maybe not necessarily as related, but they can be related and should be related and it should be your day to day where you should have a good time and you should do something or be part of a movement where you feel like you are actually having a deeper purpose in what you do. I mean, as the brand guy I always feel like this is great. Even if the two of them don't feel like the natural marriage, not you two but the two words, actually blending it together is this constant day to day exercise that you do with everything you say and everything you do. And it comes out really well. I think that those words really describe the brand very well, which shouldn't be surprising because it's what you do.
David Côté:
Thank you. That's good news because sometimes we have words that we think our brand is and it's not the way the consumers see it. So I'm glad to hear that those words actually make sense when you look at our brand.
Fabian Geyrhalter:
You can feel it. Definitely. Do you have… Since this is about branding, my show is about branding at heart, when you talk about how you want to be telling the stories of not only the things that go right, but also the things that go wrong and also the awkward stories. And you want to be very transparent because there are entrepreneurs out there that want to follow your footsteps either in the industry or somewhere else and they might get inspired by it. What is some advice on the branding side maybe that you learned over the last six or so years where you feel like you can hand it over to founders and say either, "Don't have a step into this direction." Or maybe push something on your brand side that they might not think about?
David Côté:
Can I go on this one, Julie?
Julie Poitras-Saulnier:
Yeah. I'll complete.
David Côté:
To me I'll say don't get lost in studies and analyzing your impact and analyzing your results and your audience frequency and how much you're known. You better go for it and try things and test. And knowing if your marketing action is working is very easy. You have an instant feedback from consumers all the time. And you even have a number of likes and views which really helps tremendously to know if it's working, what you're doing and an engagement rate that you can get for free online. So, you don't have to hire agencies and try to do market studies and surveys to know exactly the wording you need to know. You just need to try things until you find the sweet spot and see what does consumers really react to and what do they like when we try a few things. And that's how you grow as a brand. And that's how you find out as a funnel again, you funnel down to the tactics that really works.
Julie Poitras-Saulnier:
I love it. 100%. It's really the way we've done it. We just try things. Because when you're really small and you are starting sometimes it's easier, but it's also faster and it's expensive. So just go out there with the way you think it is and you can adapt easily. You can get the feedback. We started with transparent label that… You would see the juices would split because there is no homogeneous agent. The juice would split and you could see it with the transparent label, which was a mistake at the beginning. But we launched that way and we got free feedback from small, independent grocery stores where we sell. We had feedback from consumers. And we adapted and we continue to adapt our branding and our labels every month, every year. We continue to adjust all the time.
And I think it's always fine tweaking the things you can just adapt. And at the end, sometimes it's easier to do it this way than to just overthink it. And my takeaway would be really also to go with the fact that consumers are smarter than you think. I know sometimes in marketing… I don't know why there is this tendency of marketers saying talk on your packaging to the dumbest person can understand. I don't know where that comes from, but I disagree with that because I think when we started the project that was one of our biggest fears. Are consumers going to understand our project because consumer marketing about the food has always been about premium. This ingredient is so premium and it's the best ingredients you can find out there. It's hand picked in the Himalayas. Always this stories of how premium the product is. And we were going to the market with the message that was completely different saying we're taking the ugly fruits and vegetables or the leftovers or the discarded ones.
And we were like, "Are consumers going to understand? Are they going to be willing to buy the products? Are they going to understand that these products are still very good for consumption?" They just have this and this issue. And we made that bet of saying, "Consumers are smart enough. They're smarter than we think. And if they're not, if they're not educated about something, make it your role to do so." I think it's also part of the brand to educate consumers and ensure that we bring society to another place and we can talk… This is an opportunity to share about what you care for, what you stand for. So explain it, share about it, I don't know, a QR code to link to something that explains more. Or just put something that's going to be intriguing so people would go see on your website if you need more space to explain. I think we need to also be that agent of change that can educate consumers.
Fabian Geyrhalter:
I love everything that both of you said. All of these points are fantastic. I know we're running to the top of the hour and I want to be very aware of your time. And I want to make sure that we're not going over. I know what's next for the LOOP brand. I know you're heading to the US market. How can people follow LOOP online? And where can they currently get… Not currently but when you're running again, where can they get the LOOP products?
David Côté:
So we're launching in Sprouts nationally. So Sprouts will be, well, the only place for now because this is what we can achieve right now. But starting in three months probably in July we'll be in many stores in the US. I can't tell you where exactly, but there are so many ones that are actually calling us that we're very excited about it. But we're going to start listing our US accounts pretty soon. That's for sure. And then we'll open our online sales also in the US before the end of the year if everything goes fine. Yeah. That's pretty much where we'll be for now.
Fabian Geyrhalter:
Perfect.
Julie Poitras-Saulnier:
Yes. LOOPMission.com, they can follow our journey. They can see the behind the LOOP videos and visit the factory, everything. Come with us, visit a farmer. We're out there all the time with these videos.
Fabian Geyrhalter:
That is wonderful. On December of last year you posted on Instagram, this year our goal is to build a strong enough team that will allow us to bring back balance in our lives. I know you're not there yet. It's beginning of May, but that's what I wish you for the rest of the year that you're going to get there, that the factory is going to be smoothed out. I want to thank you so much for the time you spent with us here despite all of this going down. And I can't wait to continue to follow the journey and see your progress.
David Côté:
Thank you so much, Fabian. Well, we still have seven months to get to that achievement. So I'm very confident we're getting there,
Fabian Geyrhalter:
Yeah. If you think about it that way, sure. Four months down. Keep going.
David Côté:
All right. Well, thanks for this time. Very appreciated.
Fabian Geyrhalter:
Absolutely. My pleasure.
---
0 COMMENTS