About Fabian Geyrhalter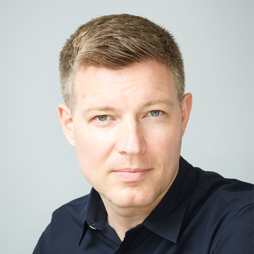 Fabian Geyrhalter is a renowned brand strategist and the founder and Principal of FINIEN, a Los Angeles-based consultancy specialized in creating strategic, verbal and visual brand clarity. His client list ranges from high-growth startups such as Jukin Media, Survios, and Vimmia to established brands like Warner Brothers, The Bill & Melinda Gates Foundation, Goodwill, W Hotels and Honeywell. Geyrhalter regularly judges international design competitions and is an active jury member of the Academy of Interactive & Visual Arts. His branding work has won numerous accolades, including 30 "American Graphic Design Awards."
Geyrhalter is also a columnist for Inc and Forbes, and has been published by the likes of The Washington Post, Mashable, Entrepreneur and The Huffington Post. He is an advisory board member of Santa Monica College and has served as an adjunct professor at the University of Southern California and ArtCenter College of Design. A frequent speaker and mentor to entrepreneurs worldwide, he is a distinguished "Global 100" mentor at the Founder Institute, and his book "How to Launch a Brand" is a #1 Amazon Bestseller. His newest book is "Bigger Than This – How to turn any venture into an admired brand." Geyrhalter was born in Vienna, Austria and is a graduate of Art Center College of Design.
Speaking & Workshop Inquiries
Fabian Geyrhalter is a frequent speaker at conferences and universities worldwide and holds branding workshops at incubators and corporations. Rates are negotiable for speeches, depending on content and audience, and business air travel and local accommodations will need to be covered. Please contact Fabian directly via fgeyrhalter@finien.com about workshop details and to inquire about current availability.

Fabian is a symbol of dynamic speakers on branding and design thinking. I was at the edge of my seat, he immediately grabbed the attention of the audience. I highly recommend him when considering an expert on the subject.
An excellent speech last night! The audience rated you a 9.4 out of 10. Very few speakers get 9 ratings!
Fabian has an inherent gift for turning the art of branding into a systematic approach, which he communicates beautifully.
Fabian's closing keynote was fantastic. This entertaining and inspiring address with actionable insights for our attendees was the perfect conclusion for our program!
Current Topics
How to Launch a Brand (Speech)

Based on the bestselling book 'How to Launch a Brand', Fabian Geyrhalter shares expert insights derived from over a decade of professional experience transforming new companies from ideation phase to tangible brand realities. Learn about the process of creating a strong brand, from the necessary steps to avoiding mishaps during a fast-paced brand launch:

Creating a Strong Foundation - Your Brand Platform
Naming Your Venture in a Meaningful Way
Timeless Identity Design Creation
Your Brand Atmosphere Touch Points

This talk is catered to early stage companies and will provide attendees with actionable insights and step by step notes on how to launch their new product or service as a brand.

Audience: Entrepreneurs, Startups, Founders

How to Turn Any Venture Into an Admired Brand (Speech)

Based on his acclaimed book 'Bigger Than This – How to turn any venture into an admired brand,' Fabian Geyrhalter walks his audience through the traits that make brands connect deeply with their tribes, even ventures with little to no innovation. Depending on size of audience, background and time allocation, he will dive into 5 to 8 brand traits with case studies and actionable insights that any attendee can use to transform their, or their client's, brand. Lecture or workshop can be be followed by a fireside chat, Q&A and/or book signing.

The talk is catered to entrepreneurs and Marketers of any level.

Audience: Entrepreneurs, Startups, Founders, CMO's, Marketers

Laying the Foundation for your New Brand (Speech)

Fabian Geyrhalter walks the audience through the steps of creating a strong foundation that will help turn an idea into a brand that will attract a specific target audience:

Find out what you need to do to dig deep into the essence of your brand to help you build a foundation that will guide the brand's future
Learn how to analyze the visual/verbal aspects of your competitors and develop a plan that will enable you to set your brand apart
Discover how target audience personas bring your audience to life to help you formulate a brand strategy that will connect with them on an emotional level
Learn how the personality archetype of your brand can act as a guide in the creation of your brand's tonality and look-and-feel

Audience: Entrepreneurs, Startups, Founders

Laying the Foundation for your New Brand (1-Day Workshop)

Based on the #1 Amazon Bestselling book 'How to Launch a Brand', this 1-day intensive will give you the opportunity to work hands-on with Fabian Geyrhalter, Principal of FINIEN, to develop a Brand Platform for your new venture. Fabian will use his 13 years of experience working with clients such as Evolution, Goodwill, and the Bill & Melinda Gates Foundation, to walk you through the process of launching a new brand and work closely with you to accomplish the following:

Formulate a brand introspective that will dig deep into the essence of your brand and help you build a foundation that will guide the brand's future
Analyze the visual/verbal aspects of your competitors and develop a plan that will enable you to set your brand apart
Create target audience personas that will bring your audience to life and help you formulate a brand strategy that will connect with them on an emotional level
Discover the personality archetype of your brand which will act as a guide in the creation of your brand's tonality and look-and-feel
Learn what makes a great company name and analyze your own company name if you already have one selected

Be ready to work — preferably with your laptop or tablet in hand. At the conclusion of the workshop you will have created the core of your Brand Platform for your company or product. This document is the foundation upon which your entire brand will be built and will act as your launch manifesto and guide.

Audience: Entrepreneurs/Startup Groups with a well-formulated new business idea
Past Venues
Art Center College of Design
Business Rockstars
California Institute of Technology
California Women's Conference
Chapman University
Coloft
Concept to Code (TV-On-Air Mentor)
D.CAMP, Seoul
Exploration Institute
Founder Institute (LA, OC, SF, SD, SV, Zagreb)
Founders First Capital Partners
General Assembly
Ironfire
Intuit, San Diego
Internet Hungary Conference, Budapest
Japan Business Association of Southern California
Loyola Marymount University
Mentorbox
Miami Ad School ('Industry Hero')
New York Institute of Technology
Pepperdine Graziadio Business School
Plug And Play Tech Center
ROC
Santa Monica College
Silicon Beach @ USC
Startup Weekend
Techweek Los Angeles
The Futur
The New York Public Library
THINK '15, Colorado
University of California, Los Angeles
University of California, Irvine
University of Southern California
University of Zagreb, Croatia
VentureApp
WeWork
Westwood College
Wolves Summit, Warsaw
Women Founders Network
Wonder Women Tech
YPO
Downloads